Words
Midnight Sunburn MFA class of 2019 Exhibition Catalogue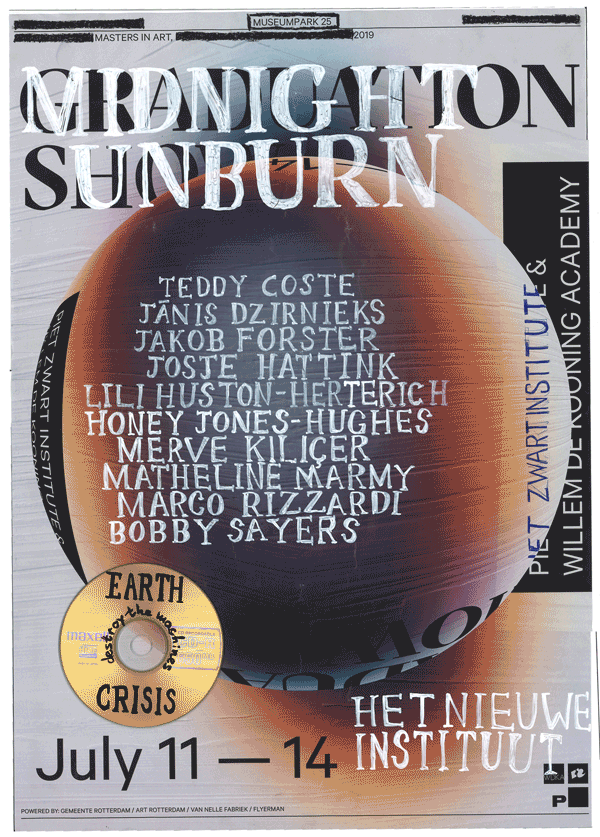 [Establishing shot]
You have entered a space. Stretching out in front of you is a landscape of artistic practice: meditations turned to objects, reflections materialised in structures, pathways leading you from one stage to the next.
You are holding a publication in your hands, a small booklet, a script perhaps. It holds words on paper and it presents a promise of sorts—a promise that it may reveal a narrative, a passing of time in which a story will unfold. Likewise, your journey through this (or any) exhibition may seem to hold this promise too.
You look at the title: Midnight Sunburn. It seems to suggest opposites. A contradiction in terms that can actually occur if you happen to find yourself at the far ends of the world, the polar regions where the sun hangs low but constant, where the unusually clear atmosphere cannot prevent sunrays from piercing the skin. Hanging around in the arctic at midnight may still cause you sunburn.
Sunburn becomes a witness of time spent. The minutes, hours and days that pass are graphed upon your skin. And only once the exposure is over do you notice you've changed. 'Midnight Sunburn,' the 2019 graduation exhibition of the Master of Fine Art at the Piet Zwart Insitute, may simply come down to this: a story of a moment in time that is an accumulated experience, a presentation of compacted and collective time.
As you open the pages of the booklet, a narrator starts:
Some six months have passed since I was introduced to the artists who have been in the process of investigating their practices and articulating their stories in relation to the world(s) around them. Confronted with a situation like this, where a multiplicity of voices speak to me, I find myself seduced into the role of the investigator, attempting to discover echoes and resonances, poetic affinities, a shared vocabulary of concerns…

I discern sensitivities towards elements that create, evoke and inform our surroundings. I see a testing of power, whether it is within the boundaries of the artist's material practice, or in a deep questioning of what impact an artistic practice can have and in which economies it lives. I see explorations of forms of sentience or knowledge that cannot be fenced in by institutional or social contracts. I discover various methods of allowing a stage—a presence—to emerge. And how that, importantly, is not only a way to address an audience, but also a means to establish a public. Time presents itself in multiple readings; as a container of memories, as an instrument of urgency, as a parallel space that holds its own authority and possibilities.

To capture all of this in one grand story… I know this is a false desire, a delusion I ascribe to occupational deformation. Yet a delusion I cherish nevertheless, somehow hoping art allows us to navigate worlds of complex experiences, creating ties between our inner privacies and actual concrete, yet still always shifting, realities. Though, in hardly any of the scenes that lie ahead are there explicit clues. Each of the artists I encounter avoid a common whodunnit plot. Rather, they trace the edges of the deeply personal vibrations that resonate with their worlds.

I come to the conclusion that confining the works of Teddy Coste, Jānis Dzirnieks, Jakob Forster, Josje Hattink, Lili Huston-Herterich, Honey Jones-Hughes, Merve Kılıçer, Matheline Marmy, Marco Rizzardi and Bobby Sayers into one universe would do none of them justice. Their worlds sit alongside each other, demanding their own space even though they might sometimes orbit around one another. And as they do, they light up the night. For some time yet, I know I will have their afterimages burning in my retina.
It is a poetic coincidence that Midnight Sunburn is also the name of a popular fireworks display, which each of us has surely witnessed at some point in our lives during a celebratory moment.
Midnight Sunburn represents a stratum of practices, liquid manifestations of time and things floating in between seasons, between the ephemeral and the concrete. Midnight Sunburn is characterised by presence, appearance and disappearance, movement and stillness. Midnight Sunburn is a contradiction, where fiction and non-fiction meet.
This publication may be read as a play and it consists of conversations that may or may not have taken place in real life. The words of the protagonists are theirs to the letter. But the situations in which we encounter their practices have emerged from the artistic licence afforded to Daniel Tuomey. The following dialogues form an attempt to inscribe the fleeting moment of the 2019 Master Fine Art Graduation Show in a time and space of its own.
Now the time has come to turn the page.
— Nathalie Hartjes, ed.
Contributors (class of 2019)
TEDDY COSTE
Teddy Coste is an artist who currently studies at the Piet Zwart Institute. He has performed in several places including Radio Athènes, Athens; Montevideo, Marseille; Paris Internationale/Treize, Paris; Swimming Pool, Sofia; Peach, Rotterdam; and San Serriffe, Amsterdam.
JĀNIS DZIRNIEKS
Jānis Dzirnieks, born in Riga, Latvia in 1992, studied at the Art Academy of Latvia, Riga; Universität der Künste, Berlin; and the Piet Zwart Institute, Rotterdam. Recent shows have been held at NordCult, Eckernförde; Swimming Pool Gallery, Sofia; and Kim? Contemporary Art Center, Riga.
JAKOB FORSTER
Jakob Forster, born in Munich, Germany in 1991, is an artist based in Rotterdam whose practice consists primarily of painting and object-making. At stake in his work are constant dealings and reckonings with urgencies (to talk/act/point out politically) and the relationship between the one who instigates (painterly) and the bodies who respond. Before graduating from the MFA programme at Piet Zwart Institute, he received his BA in Photography from the Folkwang UdK in Essen, where he was also a founding member of the artist-run space Garros Roland. His works have been shown in the parallel program of Manifesta 10 in St. Petersburg, KUMA Museum in Seoul, Swimming Pool in Sofia and most recently at Het Nieuwe Institute in Rotterdam.
LILI HUSTON-HERTERICH
Lili Huston-Herterich is an artist currently based in Rotterdam. Recently, she has been working with sculpture, photography, sound, video and sometimes performance, for the joy and embarrassment. Her practice begins with the accumulation of material and progresses with the simultaneous sorting and researching through these materials, guided by personal associations and elemental qualities. Her practice is informed by its context and interdependence with ideas, people, materials, methods, history and inheritance. She was previously based in Toronto, and before that, Chicago.
JOSJE HATTINK
In her practice and projects, Josje Hattink reflects on the perception and interpretation of specific places. At a time where our surroundings are being critically analysed and evaluated in the media and politics, she navigates her audience through case studies of human-made landscapes. Alternating between micro and macro perspectives, she questions the status quo of our 'natural' surroundings.
HONEY JONES-HUGHES
Honey Jones-Hughes is a Welsh artist based in Rotterdam. Working with a mixture of documentary video, conversations, interviews, workshops and text, she explores place-making by thinking through where we live and how we live. Her current research focuses on the ways in which contemporary cities—particularly Rotterdam—produce subjectivity through the forces of privatisation, management and gentrification, and explores the implication of artists in these processes.
MERVE KıLıÇER
Born in Istanbul in 1987, Merve Kılıçer's research is combined into spatial installations or performances comprising videos and objects, as well as artist books or images created with antique techniques of printmaking. She tends to engage deeply with the material she is working with and tries to invite randomness into the construction of the work. For her, artistic production is a constantly growing process of learning, which occurs alongside the accumulation of knowledge that gets generated through encounters with different materials, mediums and people.
MATHELINE MARMY
Born in Geneva in 1993, Matheline Marmy began her studies at ECAL/Ecole cantonale d'art de Lausanne and is currently completing her Master's degree at the Piet Zwart Institute in Rotterdam. She has exhibited in several art venues in Switzerland, Germany and the Netherlands. She is also the co-founder of several artist-run spaces in Geneva (Hangar 9, Halte Collective) and Rotterdam (The Cabinet), as well as the co-founder of the publication Exhibitions on Paper. Her work was exhibited at the Photoforum Pasquart in 2016 in the Prix Photoforum exhibition. She is based in Rotterdam and Geneva.
MARCO RIZZARDI
Born in Treviso, Italy in 1991, Marco Rizzardi has studied Fine Arts at IUAV in Venice, Kunsthochschule in Kassel and the Piet Zwart Institute in Rotterdam. Recent shows have been held at Taylor Macklin, Zürich; Fondazione Bevilacqua la Masa, Venice; and Fuoriuso, Pescara.
BOBBY SAYERS
Bobby Sayers is an artist and curator interested in facilitating space for experimentation and conversations with and for contemporary emerging artists, including international artist residencies and initiating events that allow creative practices to reach new audiences. Sayers explores systems of transformation that exist as part of our urban environments, such as going through processes to gain ownership of empty buildings, which become woven in as layered narratives within his work through interventions in public space, working with actors and musicians, sculptures or technologies such as virtual reality games.
This publication has been produced on the occasion of the exhibition Midnight Sunburn, 11 – 14 July, 2019 at Het Nieuwe Instituut, Rotterdam. Midnight Sunburn is part of the 2019 Graduation Show of the Willem de Kooning Academy, Rotterdam. The exhibition takes place within the framework of Neuhaus, a temporary transdisciplinary academy for more-than-human knowledge.
Curated by Nathalie Hartjes

Co-produced by MAMA and Het Nieuwe Instituut (Irina de Graaf)

AV-production by Pilar Mata Dupont, with special thanks to: Janna Brouwer-Schouten and Martin Effert at INDYVIDEO, Dieter Vandoren at Squat Deluxe, Roel Meelkop and TENT, Line Kramer and Witte de With Center for Contemporary Art and Nick Thomas
Installation team: Bergur Andersson, Niels Bekkema, Annabelle Binnerts, Daniel de Bruijn, Jake Caleb, Robin Kerssenberg, Martijn Koole, Floris Mast, Joost de Munck, Paul Nijland, Josie Perry and Daphne Simons
Self-published in an edition of 50
Editor: Nathalie Hartjes

Stage directions by: Daniel Tuomey

Copy editor: Isabelle Sully

Conversation transcription: Clare Noonan

Dean, Executive Director Willem de Kooning Academy: Jeroen Chabot

Master Fine Art Course Director: Vivian Sky Rehberg, PhD

Master Fine Art Interim Course Coordinator: Susanna Fasciolo
Special thanks to the Master Fine Art core tutors: Liesbeth Bik, Kate Briggs, Bernd Krauβ, Mike Sperlinger, Jan Verwoert, Nina Wakeford and Katarina Zdjelar.
We also are grateful to all the guest tutors and thematic project leaders who engaged with the MFA programme.
The PZI MFA graduates gratefully acknowledge study and production financing and support from: l'Assocation 5vs5, Culture Capital Foundation of Latvia, Dewar Arts Award, the Holland Scholarship, the Leverhulme Trust and Stichting Bekker-La Bastide.
All rights reserved. No part of this publication may be reproduced in any form by electronic or mechanical means without permission in writing from the authors and the publishers.
Please contact pzwart-info@hr.nl or info@thisismama.nl for any queries.