Feature
Studios Open 2019 MFA classes of 2019 and 2020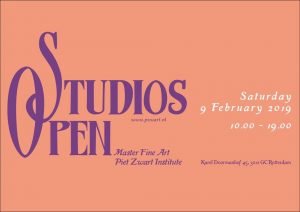 Each February, the Master Fine Art at the Piet Zwart Institute-Willem de Kooning Academy welcomes guests to its annual open studios. The day-long occasion coincides with Art Rotterdam week, and visitors experience the range of practices, realities, narratives, and dynamics the MFA program fosters in its studio "station," the former St. Willibrordusschool building in Rotterdam's city center, dating from 1907.
Open studios offers guests an opportunity to meet and engage directly with a new generation of emerging international artists as well as our core MFA teaching staff. In addition to opening our doors to the public, the artists host durational programs full of surprises, with the possibility of performances, screenings, readings, auctions, radio programs, guided tours, and conversations throughout the day. For the first time, myriad artists and alumni donated artworks, experiences, and labor to a fundraising auction co-organized by the MFA classes of 2019 and 2020. The proceeds will be used to finance a group excursion.
Featuring: Christine Ayo, Annabelle Binnerts, Antonia Brown, Jake Caleb, Teddy Coste, Jānis Dzirnieks, Jakob Forster, Josje Hattink, Olga Hohmann, Lili Huston-Herterich, Peter Horneland, Honey Jones-Hughes, Jamie Kane, Merve Kiliçer, Matheline Marmy, Lucía Bayón Mendoza, Lukas Meßner, Josie Perry, Petter Dahlström Persson, Marco Rizzardi, Bobby Sayers, Yanik Soland, Daphne Simons, Berglind Erna Tryggvadóttir.
With Liesbeth Bik, Kate Briggs, Bernd Krauß, Mike Sperlinger, Jan Verwoert, Nina Wakeford, Katarina Zdjelar, and Vivian Sky Rehberg.
Photos by Michaela Lakova